23 January 2002

I hate poems!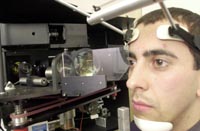 Readers of Byron in the nineteenth century complained that reading his poems was too difficult. Now, a team of arts and science researchers at the University of Dundee is combining their expertise to determine why and how these readers found Byron's poetry difficult and whether readers today have the same complaints about his style.
Dr Andrew Roberts and Dr Jane Stabler of the English department and Dr Martin Fischer of the psychology department have just secured maximum funding of over £50,000 from the new innovations scheme for experimental research to conduct interdisciplinary research into how we read poetry.
The team will be using the new eye tracker machine in the psychology department to watch how the reader's eyes move anticipate or recall rhyming words, and the effect of line breaks and how the poem is laid out on the page in both romantic and contemporary poetry. Combining experimental psychology and literary critical methods in this way will allow the team to draw conclusions on the difficulties of poetry reading and what obstacles people encounter when reading a poem.
Using documented historical reactions to Byron's and other romantic poetry, the researchers will compare the aesthetic responses of Byron's contemporaries to poetry readers today. In the time gap of two centuries, do people still read in the same way? Can we be taught to read poetry or is the way we read intuitive and different for every individual?
The researchers are hoping to reach a greater understanding of how poetry is read. One of the questions they hope to answer is why many students find poetry less appealing than song lyrics which are easily remembered and recited but use the same structures and rhymes as poetry./ENDS
Contact Dr Andrew Michael Roberts 01382 344766
Dr Jane Stabler 01382 344978
Dr Martin Fischer 01382 344612