7 May 2013
Dundee research leads to space award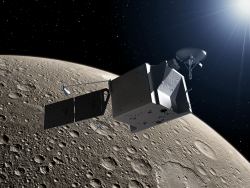 Image, showing the BepiColombo Mercury Polar Orbiter which uses SpaceWire technology, is courtesy of the European Space Agency.
An international team, of which the University of Dundee is a leading member, has received a prestigious award from the European Space Agency (ESA) in recognition of its outstanding achievement in creating highly successful spacecraft technology.
The SpaceWire project won the ESA Award for Teamwork Excellence. This is awarded for projects or missions that demonstrate exceptional cooperation between a team of people within the ESA and contributors outside the Agency.
SpaceWire is a computer network for use on board spacecraft, which connects together instruments, mass-memory, processors, the downlink telemetry, and other onboard sub-systems. The SpaceWire concept has grown from a specific engineering need into a standard interface supported by a full set of components and support tools provided by partners in five continents.
The core team comprises individuals from the University, ESA, NASA, Japanese Space eXploration Agency, Russian Space Agency, and industrial partners.
Professor Steve Parkes, Director of the University's Space Technology Centre, attended the award ceremony at the headquarters of the European Space Agency Technology and Research Centre in Noordwijk, Netherlands. He said he was delighted that SpaceWire received the award.
"It is very unusual for an ESA Teamwork Excellence Award to go a technology rather than a space mission, so this reflects the importance of SpaceWire internationally," he said.
"SpaceWire is now being used or designed into over 100 spacecraft. As the academic member of the SpaceWire core team it is a particular honour to receive the award, recognising the high impact research carried out by the University of Dundee over the past 15 years.
"My appreciation goes to ESA for funding our research and to the members of the Space Technology Centre at Dundee. My particular thanks go to Philippe Armbruster at ESA, a constant champion and supporter of SpaceWire, who made it happen."
The Space Technology Centre, funded by the ESA Technology and Research funding programme, led the academic research, presented the initial definition of the standard, developed crucial SpaceWire codec and router chip designs, and wrote the formal standard document, with input from engineers across Europe.
Over the past 15 years a coherent programme of research resulted in an important technology for spacecraft being used and designed into over $10 billion worth of scientific exploration, Earth observation, telecommunications, and global positioning system spacecraft. This programme of research is set to continue over the next ten years on higher performance, more capable network technologies, targeted at both spacecraft and terrestrial applications.
Professor Parkes was last year presented with a Specialist Bronze Award from the Royal Aeronautical Society for his instrumental role in the inception, development and continuing success of the SpaceWire technology.
For media enquiries contact:
Grant Hill
Press Officer
University of Dundee
Nethergate, Dundee, DD1 4HN
TEL: 01382 384768
E-MAIL: g.hill@dundee.ac.uk
MOBILE: 07854 953277