27 March 2013
Zoology Museum Easter opening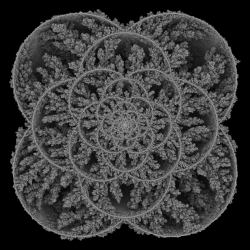 Image is of one of Andy Lomas' images
The University of Dundee's D'Arcy Thompson Zoology Museum will this weekend celebrate Easter by opening its doors to the public and putting newly acquired art works on display for the first time.
Going on show for the first time will be two works by major 20th-century artists. One is a drawing called Overflow by Wilhelmina Barns-Graham, the St Andrews-born artist famous for her abstract work in St Ives. The other is a spiral-inspired etching by Victor Pasmore, who revolutionised art teaching in Britain in the late 1950s with his Basic Design Course, which included exercises based on D'Arcy Thompson's work.
Also featuring are two prints by Andy Lomas, a special-effects director whose credits include Avatar and the Matrix films. Lomas also creates artworks generated by computer algorithms, inspired by D'Arcy's work on growth patterns.
The works have been obtained after the University Museum Collections were awarded a £100,000 grant from the Art Fund to build a collection of work inspired by D'Arcy Thompson, Dundee' first Professor of Biology.
Curator Matthew Jarron explained, "Over the years, D'Arcy's work has had an extraordinary influence on art and design that continues to this day. As well as all our amazing animals from around the world, we will also be displaying some of the latest purchases from our Art Fund grant."
Also on show will be a new version of a long-lost sculpture by Kirkcudbright-based artist Alex Flett. He originally made Snail as a student in 1969 but the work was destroyed. Now he has revisited the original idea to create a new version especially for the museum.
Alex said, "I've long been inspired by D'Arcy Thompson's work, and I'm delighted that my sculpture Snail is being displayed in the museum alongside his original specimens."
The museum, located in the University's Carnelley Building, will be open 2-4.30pm on Good Friday and 10am-12.30pm on Easter Saturday. Admission is free.
For media enquiries contact:
Grant Hill
Press Officer
University of Dundee
Nethergate, Dundee, DD1 4HN
TEL: 01382 384768
E-MAIL: g.hill@dundee.ac.uk
MOBILE: 07854 953277