23 January 2013
The real face of Robert Burns revealed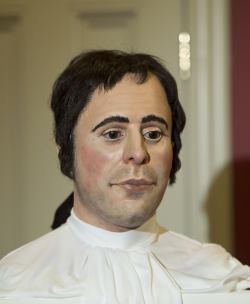 picture shows the reconstructed head of Burns
The face of Robert Burns has been revealed thanks to work by forensic experts at the University of Dundee.
The STV documentary, In Search of Robert Burns, last night (Jan 22nd) revealed the real face of Scotland's most famous poet.
The documentary, presented by actor and Burns' enthusiast David Hayman, unveiled a life size model of Robert Burn's head, reconstructed using state-of-the art forensic technology by Professor Caroline Wilkinson and her team at The University of Dundee.
Casts of Robert Burns' skull and contemporary portraits were used to recreate the most accurate 3D depiction of his head.
Caroline Wilkinson, Professor of Craniofacial Identification at The University of Dundee, said: "To be able to reveal the 3D head of Burns to Scotland and the world is an immense privilege for us and all the team have watched this head develop and take on character over the last year. Finally we can see this charismatic poet as others would have seen him in life and it has not been disappointing.
"This project has been quite a challenge and an enormous responsibility. We assessed as much material as we could for this reconstruction, including skeletal and anatomical structure, facial proportions from the Reid miniature and the Miers silhouette and texture details from the portraits. This 3D depiction is as accurate as possible based on the available information and shows Burns in his full living glory."
In Search of Robert Burns follows David Hayman as he delves into the world of Robert Burns (1759-1796). He finds out how Burns' upbringing, education, tough life and romantic spirit forged a creative genius that would transform him from humble farmer to globally renowned poet.
David Hayman said: "The highlight of this film for me is, undoubtedly, the unveiling of the reconstructed head of Rabbie Burns. It had a very profound and startling effect on all who witnessed it. A powerful, sensual and sensitive face. Thoughtful but with a quiet determination and a hint of a smile. It is a knockout. I felt very privileged to be in its presence."
Elizabeth Partyka, deputy head of channels at STV, said: "Last night's fascinating documentary offered an in-depth look at Robert Burns' life and, in a compelling conclusion, revealed what science tells us is the real face of Scotland's most iconic poet. I think most of us were surprised by the reveal, and I am sure it is the topic of many discussions around the country today."
In Search of Robert Burns will be repeated on 25 January at 10.35pm on STV and is also available on the STV Player.
For media enquiries contact:
Roddy Isles
Head, Press Office
University of Dundee
Nethergate, Dundee, DD1 4HN
TEL: 01382 384910
E-MAIL: r.isles@dundee.ac.uk
MOBILE: 07800 581902