7 January 2013
International Design Competition won by DJCAD student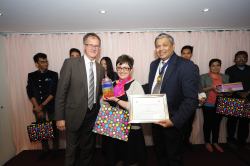 Image shows Judy receiving her award from Keith Parton of Clariant (left) and SDC President Dr Sanjiv Kamat.
A collection of creepie-crawlies has helped a third-year Textile Design student from Duncan of Jordanstone College of Art and Design (DJCAD) to win a prestigious international competition.
Judy Scott was named the winner of the Society of Dyers and Colourists' (SDC) annual International Design Competition at a prestigious awards evening held in Hong Kong. She held off the challenge of finalists from Australia, Hong Kong, India, Ireland, Pakistan, Singapore, Thailand, Bangladesh and South Africa to win the prize.
The 2012 competition brief challenged students to "demonstrate the creative, imaginative and original use of colour in either fashion or textiles", with the theme being "Fashioning Colour Responsibly". Winning the competition, sponsored by speciality chemicals company Clariant, meant Judy landing a £1000 cash prize.
The judges noted that Judy's work, entitled 'Natures Jewels', showed 'a real understanding of the brief as well as an innovative use of colour in the expression of her designs'. Judy explained that her inspiration came from the plant and insect illustrations of Ernst Haeckel and the collection of bugs held at the University of Dundee's D'Arcy Thomson museum, including bright vibrant beetles.
"I developed my designs through mixed media, collage, photography and drawing and translated these into designs suitable for hand printing by mono and screen-printing methods," she said.
"These were further developed on the cloth and the fabric choice determined which dye methods I used. To keep the richness and depth of the colour, acid dyes on protein fibres gave lustre and sheen to the fabric. Colouring the cloth by hand enabled me to mix exact quantities for weight of fabric ensuring no wastage.
"Large-scale production using these methods could have a greater impact on the environment and I've looked at a number of ways of minimising this impact. Receiving this beautiful trophy along with the amazing cash prize really enforces that I was so right to follow my dreams and come to study at the age of 50 and shows it is never too late to learn.
"The £1000 is going into my equipment fund as I am saving to purchase a professional steamer to enable me to sell my designs and create accessories for fashion and interiors. Producing this body of textile designs pushed me to experiment with layering colour on colour and was great preparation for the work I'm now undertaking in my final year for my degree show in May 2013."
The SDC, established in 1884, is the world's leading independent educational charity dedicated to advancing colour science and technology. The International Design Competition was launched in 2002 and annually attracts entries from hundreds of fashion and textile design students worldwide.
Keith Parton from Clariant added: "The competition has shown over the years that it offers an incredible experience to the students, and acts as a great springboard into the industry. We congratulate Judy and wish all the students the very best of luck in the future".
For media enquiries contact:
Grant Hill
Press Officer
University of Dundee
Nethergate, Dundee, DD1 4HN
TEL: 01382 384768
E-MAIL: g.hill@dundee.ac.uk
MOBILE: 07854 953277