14 November 2012
Planet Earth cameraman to share 'Adventures in Science'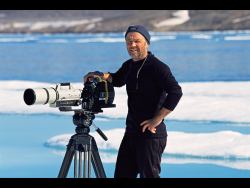 He's faced up to half-tonne polar bears and 20-foot killer whales and worked in some of the most hostile environments in the world so Doug Allan's audience at the University of Dundee this weekend is unlikely to hold many fears for him.
The Fife-born wildlife cameraman will share his experiences of filming for some of the world's most acclaimed nature documentaries in remote, hazardous locations when he appears at the University's Dalhousie Building on Saturday, 17th November. His talk, 'Adventures in Science', is the final event in the Literary Dundee @ Dundee Science Festival programme.
Ever-smarter technology has allowed nature to be captured redder in tooth and claw than ever before, but someone still has to physically place the equipment where it needs to be to record those vital shots. Doug will be sharing the secrets of how to get up close with animals that would rather eat the researcher rather than offer up insights into their usual diet in his talk.
As well as revealing the specialist knowledge and special techniques that he employed when filming productions such as Ocean Giants, Planet Earth and Frozen Planet, he will also read from 'Freeze Frame', a new book celebrating his 35 years working in the polar regions.
Literary Dundee director Anna Day said, "We're delighted that Doug will be coming to Dundee to share his experiences with us. Hugely popular programmes such as Planet Earth have really opened people's eyes, not only to the wonder of nature, but also the amazing man-made technology that allows us to enjoy these beautiful shows.
"Doug has been at the very forefront of wildlife film-making over many years and his incredible camerawork and passion for nature have helped make science more accessible to a lay audience. He will also be revealing just how far he has gone to get the data needed. His book and talk are for anyone who has ever watched these shows and wondered 'How do they do that?'"
Literary Dundee @ Dundee Science Festival is a special series of talks by authors whose books look at a variety of topics relating to science.
'Adventures in Science' takes place at Dalhousie Building from 6pm on Saturday, 17th November. Tickets, costing £5 and £3 (concessions), are available by contact Literary Dundee on 01382 384413 or visiting www.literarydundee.co.uk/events.
For media enquiries contact:
Grant Hill
Press Officer
University of Dundee
Nethergate, Dundee, DD1 4HN
TEL: 01382 384768
E-MAIL: g.hill@dundee.ac.uk
MOBILE: 07854 953277