14 September 2011
Professor Andrew Hopkins appointed SULSA Director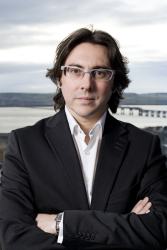 SULSA is delighted to announce the appointment of Professor Andrew Hopkins as its new Director.
Professor Andrew Hopkins FRSC FSB will begin in his new role immediately and succeeds Professor Mike Tyers, who has taken up a new opportunity at the University of Montreal in Canada.
Professor Hopkins is a SULSA Professor at the University of Dundee, where he is Professor of Medicinal Informatics and SULSA Research Professor of Translational Biology. His research in the fields of chemoinformatics, chemogenomics and drug discovery focuses on developing novel informatics and experimental methods to enable new, more effective, ways of conducting drug discovery.
Commenting on his appointment, Professor Hopkins says, 'SULSA represents a research community of more than 11,000 life scientists in Scotland. I'm very privileged to be working with a talented Executive Committee to ensure we develop SULSA's role in fostering innovation in the Life Sciences in Scotland'.
Professor Hopkins spent ten years in the pharmaceutical industry prior to moving to academia. He is well known in the UK, Europe, USA and internationally as he has authored some of the highest cited papers in the field of Pharmacology that have been published in the past decade. Professor Hopkins has also previously worked closely with the Organisation for Economic Co-operation and Development (OCED) and the World Health Organization Special Programme for Research & Training in Tropical Diseases (WHO TDR) on issues of collaboration and innovation in drug discovery. Since joining the Executive, Professor Hopkins has played a lead role within SULSA and will bring his energy, vision and many industry connections to the Directorship of SULSA at this critical juncture for the Scottish Life Sciences.
'It is a tremendous coup for SULSA that Professor Hopkins is assuming the Directorship' says Professor Tyers. 'Professor Hopkins was nominated and unanimously approved by SULSA's Executive as the ideal candidate to lead the Alliance through its next crucial phases. Andrew's innovative research in drug discovery is of the highest international calibre and is acutely relevant to SULSA's mandate of translating biological discoveries into economic and health benefits for Scotland. His scientific vision and energy will underpin the strong leadership needed to foster the vibrant life sciences research community in Scotland.'
As Director of SULSA, Professor Hopkins will be SULSA's figurehead and lead its Executive Committee made up of members from six of Scotland's leading Universities. He will set the strategic direction for SULSA's scientific, educational and networking activities.
'I'm very much looking forward to leading SULSA, to ensure Scotland's scientific excellence and innovation across the life sciences is recognized internationally. I'm keen to see SULSA develop the scientific culture for researchers, through new ways of collaborating and networking, both within Scotland and between Scotland and the global scientific community, ' says Professor Hopkins.
About SULSA:
Established in 2007, Scottish Universities Life Sciences Alliance (SULSA) is a research pooling partnership between the Universities of Aberdeen, Dundee, Edinburgh, Glasgow, St Andrews and Strathclyde that is supported by the Scottish Funding Council. SULSA aims to maintain and advance Scotland's global position in the Life Sciences by recruiting international research leaders and funding world-class research facilities. SULSA also connects researchers across Scotland through events and collaborative PhD studentships.
www.sulsa.ac.uk - admin@sulsa.ac.uk - 0131 651 9066
About the Scottish Funding council:
The Scottish Further and Higher Education Funding Council (SFC) is the national, strategic body that is responsible for funding teaching and learning provision, research and other activities in Scotland's 43 colleges and 20 universities and higher education institutions. The SFC distributes approximately £1.5B in funding each year for teaching, research and associated activities in Scotland's colleges and universities. Their research funds are competitively allocated based on the UK-wide research assessment exercise that evaluates all universities across the UK. The SFC also supports knowledge exchange activity across Scotland. The funding provided to SULSA by the SFC explicitly fosters the international competitiveness of research in Scottish universities, and translates these contributions to innovation and high-level skills within Scotland.
For media enquiries contact:
Roddy Isles
Head, Press Office
University of Dundee
Nethergate, Dundee, DD1 4HN
TEL: 01382 384910
E-MAIL: r.isles@dundee.ac.uk
MOBILE: 07800 581902