4 October 2011
Dundee Professor elected to the Royal Scottish Academy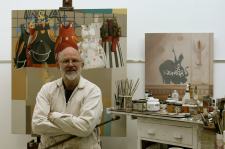 Alan Robb, Emeritus Professor of Fine Art at the University of Dundee and a former Head of the School of Fine Art at Duncan of Jordanstone College of Art & Design, has been elected a member of the Royal Scottish Academy.
A graduate of Grays School of Art and the Royal College of Art, Alan taught at the Crawford School of Art, Cork, before returning to Scotland in 1982 to head up the newly formed School of Fine Art at DJCAD. His appointment followed the retirement of Alberto Morocco.
Under his leadership over the next 20 years, the school gained a reputation for excellence in teaching and research, placing Fine Art in Dundee at the very top of national league tables along with the Slade, University of London, and The Ruskin , Oxford University.
'I am absolutely delighted to be elected to the Academy and hope that I can make a contribution to further the development of Scottish Contemporary Art through the RSA's projects and exhibitions,' said Professor Robb.
Alan is a well-known painter who has exhibited his work internationally. He is to be honoured by Dundee early in the New Year with an exhibition at The McManus: Dundee's Art Gallery and Museum.
For media enquiries contact:
Roddy Isles
Head, Press Office
University of Dundee
Nethergate, Dundee, DD1 4HN
TEL: 01382 384910
E-MAIL: r.isles@dundee.ac.uk
MOBILE: 07800 581902