22 March 2011
Film set in Dundee pub wins Australian accolade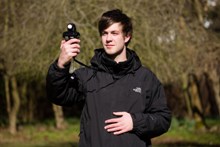 A film about an accent-related communication breakdown in a Dundee pub, made by a Duncan of Jordanstone College of Art and Design graduate, has struck gold at an Australian film festival.
ĎThe Accidental Touristí was directed by cinematographer Ian Forbes. The five-minute short won Best Local Film Award at the Shepperton Shorts film festival in Melbourne, Australia. The witty exploration of a misunderstanding between a barman and a customer, caused by their differing accents, was the centrepiece of Ianís Degree Show exhibition last year.
Ian (22) graduated from DJCAD, part of the University of Dundee, with a first class Honours degree in Time Based Art and Digital Film. The film was based on a short story especially written for Ian by his friend Andy D. Smith, who emigrated to Australia five years ago, and who helped open up new avenues for the film Down Under.
Ian explained that, although it was set in a Dundee pub, The Accidental Tourist was actually shot in the Stagís Head in Carnoustie.
'The barman and his customer are both from Dundee,' he said. 'But while the barman has a strong Dundee accent, the punter doesnít. Because of this, the barman canít understand him and refuses to believe heís from Dundee. Eventually he decides the guy is from South Africa and continues the conversation on that basis.
'Iíve known Andy since primary school and was out in Australia visiting him last year when I asked him to write a script for me. It was quite long, but I took this extract and made it into a screenplay. The fact Andy lives in Australia meant that we had access to a different market than we would otherwise and itís great to see a film set in a Dundee pub getting recognition at the other side of the globe.
'Normally I work as a cinematographer, lighting and shooting films, but for this one I wanted to direct as well. Iím currently working as a freelance cinematographer and building up my portfolio, with the intention of going to the National Film and Television School in the next couple of years.'
Andy graduated in Communication Studies from Melbourneís RMIT University in 2009. He and Ian have written a second film together that will be shot at Hospitalfield House, Arbroath, at the end of April. The Accidental Tourist continues to receive exposure and plaudits, and has already been accepted for Londonís Screentest and Sheffieldís No Limits film festivals.
A showreel of Ianís work can be found at http://vimeo.com/11744998.
For media enquiries contact:
Grant Hill
Press Officer
University of Dundee
Nethergate, Dundee, DD1 4HN
TEL: 01382 384768
E-MAIL: g.hill@dundee.ac.uk
MOBILE: 07854 953277