30 June 2011
Goldsmiths' Award hat-trick for DJCAD jewellery graduates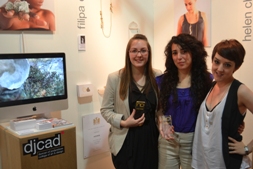 photo shows (l-r) Elizabeth Humble, Filipa Oliveira, and Hannah Livingston
For the third year running, one of the UK's most prestigious awards for young jewellery designers has been won by a Duncan of Jordanstone College of Art and Design graduate.
Filipa Oliveira is the 2011 winner of the New Designers Goldsmiths' Company Jewellery Award. She follows in the footsteps of Hannah Livingston and Elizabeth Humble, who won the 2009 and 2010 prizes respectively.
The 25-year-old, originally from Portugal, received a cheque for £1,000 plus vouchers for precious metal to the value of £500. She will also take a place on 'Getting Started', the company's annual graduate business course, and be registered at the Goldsmiths' Company Assay Office for the next 10 years.
Filipa was one of 14 of this year's graduates from the Jewellery & Metal Design programme at DJCAD, part of the University of Dundee, taking part in the prestigious New Designers exhibition in London.
Her work explores a traditional technique called filigree. She says she will take some time to decide how the money can best be used to help her develop as a designer.
'I am absolutely delighted to have won this award,' she said. 'Because Elizabeth and Hannah have won in the past two years I knew the judges rate graduates from Dundee highly but I was still waiting for the announcement with more hope than expectation.
'I'm thinking about applying to be an artist-in-residence and designing and selling my own jewellery but that depends on any offers I might get down here at New Designers. Whatever happens, this will help me a lot in taking the next step in my career. We were celebrating at the after-party and this whole experience has been really nice.'
Filipa doesn't have to look far to see how winning the Goldsmith's prize can boost the burgeoning career of a designer. Last year's winner and fellow DJCAD graduate Elizabeth Humble was revisiting the New Designers exhibition this week alongside other graduates who were identified as exceptional talents at last year's event.
She has now followed up her 2010 success by winning The New Designers One Year On Award, which examined the development of designers over the past 12 months by looking at originality, creativity, quality, and other aspects of the jewellery making process. She will receive prize money of £500 and one years membership of the illustrious Design-Nation organisation.
Further inspiration comes from 2009 winner Hannah Livingstone, who will next month open Black Box, her own boutique/jewellery studio in Edinburgh.
Filipa was one of more than 100 of this year's DJCAD graduates who will be exhibiting at some of the UK's biggest showcases for young designers in the next few weeks.
Sixty-eight graduates from the Digital Interaction Design, Jewellery & Metal Design, Product Design and Textile Design programmes are among the exhibitors at New Designers, while 31 Illustration and Graphic Design graduates will be taking part in the New Blood exhibition from tomorrow and 20 Interior Environmental Design graduates will exhibit at Free Range later this month.
Exhibitions such as these are visited by tens of thousands of people each year, including some of the important and influential figures in the design industry. This gives exhibitors the opportunity to develop contacts with trade professionals, potential employers and the media as well as having the chance to win awards, work placements and recognition.
Professor Mike Press, Associate Dean of Design at DJCAD, said he was sure the graduates exhibiting at all these events would once again show why the institution is widely recognised as one of the UK's top art and design colleges.
'Each year, those graduates representing DJCAD at New Designers and other exhibitions show they are among the best in the country and are at the forefront of design practice.
'We are very proud of our graduates, and this is an excellent opportunity for them to showcase their work and prove they deserve to be leading the way in proving how design can address major cultural, social and environmental issues. By exhibiting, the students will make essential new contacts and spread DJCAD's and the University's reputation as a leader in teaching and research.'
New Designers takes place at the Business Development Centre, Islington, over two parts. The first, which will see Textile and Jewellery graduates from DJCAD exhibit, will be held until Saturday, 2nd July. Digital Interaction and Product Design graduates will exhibit at the second instalment, taking place from Wednesday 6th to Saturday 9th July.
Illustrious design organisation D&AD will be hosting New Blood at the Old Truman Brewery, Brick Lane, from Friday 1st to Monday, 4th July. The exhibition showcases the best graduates in graphic design, visual communication, advertising, digital media, illustration, photography and other commercial creative arts in one place.
Free Range is an Old Truman Brewery special project set up to provide new creative graduates with the opportunity to showcase their work on an international level. The show takes place from Thursday 14th to Monday 18th July.
Notes to editors:
More information about each of the DJCAD graduates to win the New Designers Goldsmiths' Company Jewellery Award can be found at their websites:
Filipa Oliveira - www.filipaoliveira.co.uk
Elizabeth Humble - www.elizabethhumble.com
Hannah Livingstone - www.BlackBoxBoutique.co.uk
For media enquiries contact:
Grant Hill
Press Officer
University of Dundee
Nethergate, Dundee, DD1 4HN
TEL: 01382 384768
E-MAIL: g.hill@dundee.ac.uk
MOBILE: 07854 953277