13 April 2011
Dundee Academics help reconstruct Viking Britain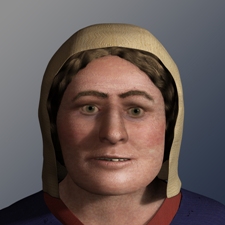 Academics at the University of Dundee have helped recreate the most accurate picture of Viking life yet as part of a £150k investment at York's JORVIK Viking Centre.
York Archaeological Trust, owner of JORVIK, has used the most advanced scientific and archaeological research techniques to bring York's Vikings to life and allow the public to come face to face with the most accurate picture of Vikings at two new exciting exhibitions at the Centre, launched this week.
The Trust has enlisted the skills of academics at the University of Dundee to produce a facial reconstruction of a female skeleton – one of four excavated at Coppergate in York over 30 years ago.
Says Caroline Erolin, Lecturer at the Centre for Anatomy and Human Identification at the University of Dundee, "We laser scanned the skull to create a 3D digital model onto which we could produce the reconstruction. The reconstruction process is carried out utilising specialist computer equipment which allows the user to 'feel' what they are modelling on screen. The anatomy of the face is modelled in 'virtual clay' from the deep muscles to the superficial.
"I was pleased to be involved in this project as 10 year previous as a medical art student I produced 2D reconstruction artwork of an individual from Fishergate in York as a part of my Masters research project, which ended up on display at JORVIK. It was good to be involved with the attraction again, this time through my post as a medical artist at the University of Dundee."
Janice Aitken, Lecturer & Researcher at the University of Dundee, took Caroline's digital reconstruction and added the lifelike finishing touches. Says Janice, "I use the same sort of software as is used to create 3D animations in the film industry. I digitally created realistic eyes, hair and bonnet and added lighting to create a natural look. It is very satisfying knowing that the work we create at Dundee University will be seen by thousands of visitors to JORVIK and being part of a process which can so vividly help people to identify with their ancestors."
York Archaeological Trust's new Investigate Coppergate exhibition examines the Vikings' diet, displays the Viking facial reconstruction and also investigates the diseases from which the Vikings suffered. The concluding The end of the Vikings exhibition looks at the final battles of Viking-age in York that heralded the end of the Viking era and the coming of the Normans. It features skeletal remains showing battle wounds and a full skeleton with evidence of severe trauma, alongside discussion about how they died.
Says Sarah Maltby, York Archaeological Trust Director of Attractions, "Archaeological research capabilities have moved on considerably since the original Coppergate excavations which took place over 30 years ago. The new exhibition areas mark a shift in how archaeological finds are analysed and the techniques available to researchers. We now have a much more accurate and physical image of what Viking life was like, what they ate, what they wore and even what they looked like thanks to Dundee University – all of which is now on display at JORVIK."
Visit www.jorvik-viking-centre.co.uk or call 01904 543400 for more information on the new exhibitions at JORVIK Viking Centre.
For more information or interview opportunities please contact Hannah Trinder or Karen Nixon at Partners PR on 01904 610077 / Email karen@partners-group.co.uk / Hannah@partners-group.co.uk.
For media enquiries contact:
Roddy Isles
Head, Press Office
University of Dundee
Nethergate, Dundee, DD1 4HN
TEL: 01382 384910
E-MAIL: r.isles@dundee.ac.uk
MOBILE: 07800 581902