3 March 2010
Professorial appointment leads to university outpost nearly 8000 miles away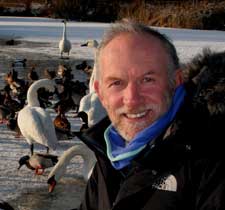 A newly appointed professor at the University of Dundee will shortly take up his post - in one of the world's most remote and scientifically important outposts almost 8,000 miles from his new employers.
Professor Tony Martin, one of the world's foremost experts in the field of marine mammals, will take up a post at Duncan of Jordanstone College of Art and Design, part of the University, in April and will be seconded to the South Georgia Heritage Trust (SGHT), which is also based in Dundee.
South Georgia is a South Atlantic island, located 7,880 miles away from Dundeem which will be home to Professor Martin for the next four years. Its importance comes from the fact that millions of seabirds traditionally breed there. Only around 20 people - mainly Government officials and scientists - currently inhabit the remote British overseas territory.
Professor Martin will oversee a multi-million pound project aiming to aid the recovery of native wildlife by removing invasive species introduced by humans during two centuries of occupation. The initial target will be rodents, whose removal should result in South Georgia once again hosting millions of breeding seabirds.
At first glance, the recruitment of an eminent biologist may appear to be an incongruous appointment for an art college. However, the work of Professor Martin fits with collaborative research into conservation and habitat restoration carried out by the SGHT, according to artist Professor Elaine Shemilt, trustee of the organisation and artistic director of the University's Centre for Remote Environments.
'This is a measure of the sort of collaborative research we do here,' she said. 'We are all artists and designers but we work with a huge spectrum of people from different specialities.
'A lot of artists are passionate about environmental management and sustainability. Artists deal with topical issues all the time and habitat restoration is extremely topical at the moment
'Tony Martin has been carrying out research into Antarctic regions for nearly 10 years, and South Georgia in particular. This is the most important island for wildlife and birdlife in the world, and it is vital to restore it to its previous status. To do this, we needed somebody, a scientist, with a huge knowledge of South Georgia and we really have got the best man for the job.
'I was extremely keen to add this level of expertise and scientific research to Duncan of Jordanstone and to the wider academic community here in Dundee.'
Professor Shemilt also expressed her gratitude to Swedish industrialist Frederik Paulsen, a Trustee of the SGHT, who funded the appointment of Professor Martin through his company Ferrings Pharmaceuticals.
Professor Martin joins the University after a long period with the Natural Environment Research Council in Cambridge. He spent many years as a cetacean biologist with the Sea Mammal Research Unit, before transferring to the British Antarctic Survey in a broader role, leading investigations of the Southern Ocean foodweb.
His most recent work has involved higher predators in the area around South Georgia, and particularly how they have responded to protection after unprecedented sequential over-harvesting by man.
Professor Martin's research interests and expertise extends into several areas, including animal behaviour, ecology, migrations, reproduction, diving physiology, conservation and the impact of introduced alien species.
He is one of the world's leading experts in whale and dolphin behaviour, and has carried out marine mammal research from the Arctic to the tropics. He has been a UK delegate to the Scientific Committee of the International Whaling Commission since 1979.
The field of bio-remediation is growing rapidly, and the removal of alien species from ecosystems that they have profoundly modified offers enormous opportunities for pure and applied research.
Unwittingly, humans have made South Georgia into a unique ecological experiment, and there is considerable potential for research to measure and model the impact of removing the main introduced stressors of the terrestrial habitat.
The South Georgia operation is planned to last four years. To date, £1.5million has been raised towards the target budget of £4.5million.
Notes to editors:
About the South Georgia Heritage Trust
The South Georgia Heritage Trust (SGHT) seeks to undertake projects that will conserve and protect the island's important natural habitat, such as restoring large areas of habitat that threatened species of birds are unable to use to breed because of the presence of rats introduced some 150 years ago. In turn this project will widen international awareness of these threatened species and their breeding sites.
About the Centre for Remote Environments
The Centre for Remote Environments at the University of Dundee is committed towards developing a portfolio of research and consultancy projects and works to secure research grants and contracts from research councils, Government departments and Industry.
The Centre works closely with the SGHT, and the main research themes addressed are:
Marine and fisheries.
Environment, ecology and conservation.
Industrial and cultural heritage, with particular reference to the whaling industries.
For media enquiries contact:
Grant Hill
Press Officer
University of Dundee
Nethergate, Dundee, DD1 4HN
TEL: 01382 384768
E-MAIL: g.hill@dundee.ac.uk
MOBILE: 07854 953277