15 December 2009
Treading the boards: Theatre in Dundee - new exhibition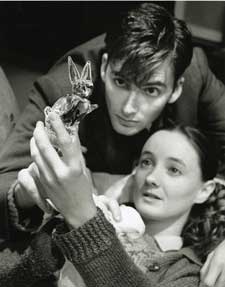 The history of theatre in Dundee over the past 200 years is illustrated in a new exhibition at the University of Dundee.
'Treading the Boards: Theatre in Dundee' traces 19th and 20th century theatre in the city, and includes rarely seen material from the University's Archive and Museum Collections and the Lamb Collection of Dundee Central Library.
Among the material on show is a wealth of photographs and programmes from the collections of Dundee Rep, which have recently been deposited within the University archives. These include familiar faces such as Gregor Fisher, Duncan MacRae, Michael York and a young David Tennant, starring in a 1996 production of 'The Glass Menagerie'.
'There is a rich history of theatre in Dundee over the past two centuries and it makes for a fascinating exhibition,' said Matthew Jarron, curator of the University's Museum Collections.
'We are particularly pleased to be able to display material from the Rep's collections, which are now held within the University Archives and contain a rich variety of images and information.'
The Theatre Royal in Castle Street was Dundee's first major theatre, replaced in 1885 by Her Majesty's Theatre & Opera House. Rare programmes and publicity material from both venues is included in the exhibition.
Many other theatres followed including the Tivoli, the Empire and the King's Theatre. But the 1910s saw the beginning of the cinema boom in Dundee and by 1930 there were no permanent theatres left in Dundee - all had closed or been converted into picture houses. The birth of Dundee Repertory Theatre in the 1930s filled the gap.
The exhibition also includes material from the University's own dramatic societies, the first of which was formed around 1911. The items on display highlight some of the activities during the past century of the dramatic society in its various incarnations and also of the Operatic Society. In 1969 the University of Dundee's new Dramatic Society - the Waifs - created history by being the first society to reach the finals of the National Union of Students drama festival on their first attempt.
Other items in the exhibition include some photographs from the Michael Peto Collection that show famous figures from the 1960s, such as the actors Ian McKellen, Laurence Olivier, Maggie Smith and the playwright Samuel Beckett.
The exhibition runs until 13 February 2010 (closed for Christmas 24 December - 4 January) Mon-Fri 09.30-20.30 sat 09.30-16.30. Admission is free.
For further information contact Matthew Jarron on 01382 384310 or Caroline Brown on 01382 384095.
For media enquiries contact:
Roddy Isles
Head, Press Office
University of Dundee
Nethergate, Dundee, DD1 4HN
TEL: 01382 384910
E-MAIL: r.isles@dundee.ac.uk
MOBILE: 07800 581902