11 February 2008
Textile designers shift between digital and material worlds to find design inspiration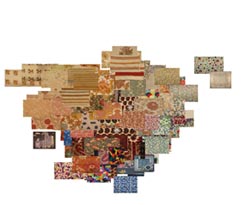 The University of Dundee is working alongside major partners including fashion house Liberty and the Victoria & Albert Museum to bridge the gap between the digital and material worlds for textile designers.
Researchers in the School of Computing at Dundee are leading the £1.4 million project to develop new systems of image-based retrieval. These are systems which work like a sophisticated visual version of text-based search engines, using pictures instead of words to seek out new images.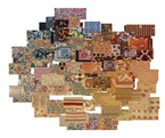 The system can draw out comparable images across dozens of factors, providing everything from exact matches to more abstract choices that may provide a creative spark.
Fashion and Apparel Browsing for Inspirational Content (FABRIC) is a three-year £1.4M project funded by the Technology Strategy Board, Department for Business, Enterprise & Regulatory Reform (BERR), (formerly the Department of Trade & Industry).
Aimed at the textile industry, the goal of FABRIC is to design new technologies, techniques, and tools to make navigating images more intuitive, allowing user-directed browsing while enhancing creativity, design, product development, and marketing.
"The relationship between art images and the creative industries is indisputable," said Dr Annette Ward, Scottish Power Research Fellow & Development Manager in the School of Computing at the University.
"Designers rely on images to fuel their creativity. Unfortunately, the visually complex and abstract nature of many designs mean that they are often hard to describe when cataloguing, and as a result, they may be very difficult to access. What we are looking to develop are systems that don't rely on words to extract the images designers are looking for, but rather use elements of the visual image."
FABRIC brings together the School of Computing at University of Dundee as project lead; London collaborators Liberty Fabric Ltd , System Simulation Ltd, and the Victoria & Albert Museum; and a University of Dundee spin-out company, Calico Jack Ltd. Together this consortium will develop and evaluate software for both desktop, mobile phones, and handheld computers.
"In order to successfully bring textiles to market, designers conduct extensive background research that involves collecting forms of inspiration, many of which are contemporary and historical images," said Dr Ward.
"For instance, textile designers at Liberty Fabric access Liberty's own design history through an archive of over 7,000 images comprised of textiles of a myriad of fibres, fabric construction, colouration, and surface treatment; original artwork; and garments. Careful cataloguing has organized these images into an impressive collection that may be accessed using keywords."
"However, succinct descriptions of textiles do not always provide the most meaningful way to browse a database for design inspiration, especially when the user doesn't have a specific image in mind. A more effective approach will be tested that allows designers to peruse the database visually while giving greater access to the sales team and business customers; a useful outcome for a commercial archive such as that at Liberty Fabric."
Museums, libraries, and galleries also offer millions of images for design inspiration, and at the same time provide a historical perspective for design. Over 40,000 images from the Victoria & Albert Museum's impressive digital collection will be incorporated into the browsing database for designers to access. Images showing continuous and discontinuous pattern repetition (prints, florals, plaids, stripes, and lace fabrics; tiles; mosaics; grillwork; wallpaper; embroidery; stained glass; carpets; rugs and other images) from the V&A's historical collection are excellent sources of inspiration and will be tested with users, including students and educators.
This three-year project brings approximately ?1million to the School of Computing for Dr. Stephen McKenna, Principal Investigator and Senior Lecturer, and Co-investigators Dr. Ward and Professor Ian Ricketts, Chair of Assistive Systems and Healthcare Computing. Five Dundee researchers will receive support from this grant, including two full-time Research Assistants, Dr. Jeff Han and Dr. Ruixuan Wang, and one PhD student, Ms. Wei Jia.
NOTES TO EDITORS
Liberty Fabric, the fabric design arm of Liberty, the iconic London department store develops two seasonal fabric collections per year as part of their highly successful fabric business. Their fabrics are incorporated into fashion collections of major designers throughout the world.
System Simulation designs and builds software systems that meet international requirements for managing digital collections for both the non-profit and commercial sectors. Clients include the British Museum, the V&A, the Royal Academy, the Courtauld Institute, the Wellcome Trust, the British Film Institute, and Getty Images.
Victoria &amp Albert Museum (V&ampA) is the United Kingdom's National Museum of Art and Design and one of the world's largest museums. Their digital image collection has over 250,000 images and is managed within the Photographic Studio.
Calico Jack creates smart software components for next generation converged and mobile services. The company's participation will extend FABRIC's reach into new work settings by making it available over disparate networks and through a variety of devices.
Project Management
Dr Annette Ward, Scottish Power Research Fellow and Development Manager and FABRIC Project Manager, University of Dundee, has evaluated retrieval software at London Guildhall Library and Art Gallery, The British Library, and BBC. She has over 25 years as an academic in textiles, clothing, and design in US and India.
Professor Stephen McKenna is the Principal Investigator for the FABRIC project at the University of Dundee. His research interests are computer vision and pattern recognition in domains such as intelligent human-computer interaction, content-based image browsing, medicine and biology.
Professor Ian Ricketts holds a personal chair in Assistive Systems and Healthcare Computing at the University of Dundee. He has worked at Reuters and NCR and was a founding member of what is now the Dundee University School of Computing. He has secured £5.7M of funding in 94 projects and published 250 conference and journal papers.
Peter Taylor, Liberty Fabric Ltd Managing Director, has over 20 years experience in international commerce and has taken an active and personal interest in the FABRIC project to ensure it is given the necessary management support within Liberty.
Anna Buruma, Liberty Archivist, textile historian, formally a costume designer for television and film was instrumental in putting the Liberty archive back into productive use for the company and has been working on fully cataloguing this valuable resource.
James Stevenson, Manager of the Photographic Studio, V&A Museum, leads a team of 15 photographers that produce images for its collection management, publication, and promotion programmes. As well as producing 2-D images, the studio also makes a growing range of multimedia formats of the collection for its virtual presence.
Dr Paul Sergeant, CEO of Calico Jack, has taken a senior role in numerous collaborative mobile projects. Prior to founding Calico Jack, he was a Research Fellow at the University of Dundee.

For media enquiries contact:
Roddy Isles
Head, Press Office
University of Dundee
Nethergate Dundee, DD1 4HN
TEL: 01382 384910
E-MAIL: r.isles@dundee.ac.uk